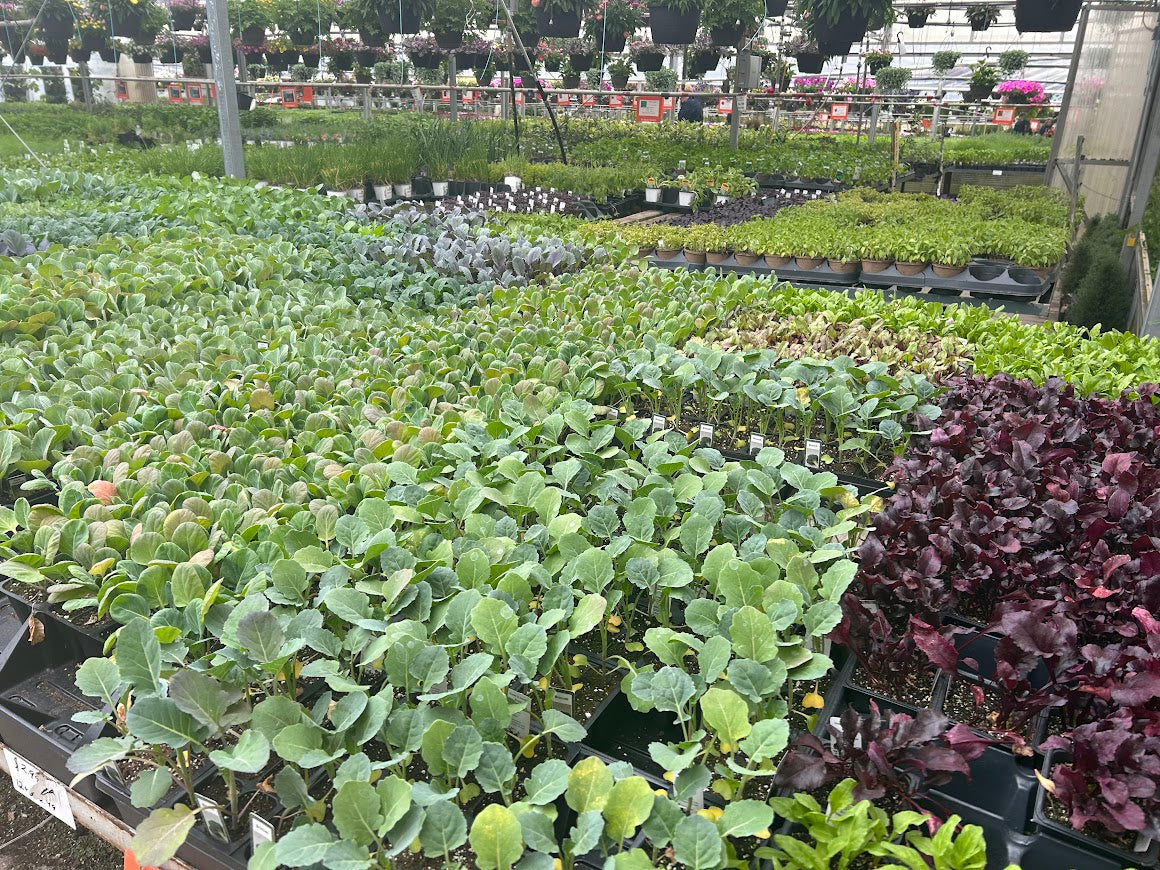 Planting your Veggie
Planning your Vegetable Garden in Niagara
What should I plant in my vegetable garden?
Choose your veggies
Choose vegetables that you like to eat, things that you are picking up on your weekly grocery shop or things you like to have as a treat.  Yes, it is always fun to try some new, unique or heirloom veggies, but for your first veggie garden, it's always best to stick to the basics!   You'll want something you're going to eat or you'll end up with a lot of wasted fresh produce. 
Select plants that grow well in Niagara Region
Niagara region is zone 6 - 7, depending which city you are in.  Make sure to check out a hardness zone map of Ontario to know what hardiness zone you belong to.  You can use this zone number to help you choose the right plants and/or seeds to plant as well as the timing of planting! The northern part of the region is actually the warmer climate in Niagara because of the protection of the escarpment.  Grimsby, Lincoln,, St. Catharines and Niagara on the Lake are a 7a hardiness zone, which is why you can grow tender fruits, like peaches, nectarines, apricots and plums. Most of the region outside of those northern cities are a 6b hardiness zone. West Lincoln, Pelham, Thorold, Welland, Niagara Falls,Wainfleet, Port Colborne and Fort Erie are not typically able to grow those tender fruits, as it's just slightly too cold.  But, there are still so many great fruits and veggies that you can grow in your backyard veggie garden! 
Plan your Space
Start with the size of your space that you have to work with, as the size of your garden will determine how many plants you can have.  First, draw out your outdoor space, and then add a gardens in.  You can choose to have vegetable beds in the ground, raised garden beds or planters or a combination of some or all of those.  The options are endless!  But, don't let that overwhelm you.  For your first year creating a new veggie garden, start small and simple. You can always expand your garden in the years to come!  You may decide you want a Pinterest worthy looking garden, but it's totally not necessary to have a food garden.  If simple means that you will actually plant a few things this year, start with simple. 
Choose your plants
Once you know how much space you have to work with, make a list of your favourite veggies and put those on the plan first.  If you know you'll eat a lot of tomatoes, peppers and cucumbers, then start there.  Make sure to double check how big these plants will be as they grow throughout the summer, you don't want to overcrowd your garden!  They start out pretty tiny, but you'll be amazed at how much they can grow in just a few months of sunshine and water!  
Once you have your kitchen staples planned out, it's time to choose some secondary fruits and veggies!  Choose things you like to fill in the leftover spaces!  Keep in mind, some plants are better to plant as a seedling, and some are better to direct sow from seeds.  
Here's a recommended plant list for you for a family of 4.  If you make  use of some vertical space with trellis' you can fit these into a pretty small backyard garden!
2  Tomato plants (one cherry, one larger)

2 Pepper plants (one sweet and one spicy, or two sweet)

2 Cucumbers (require trellis to climb)

1 Zucchini 

4 Beans, climbing (mix and match yellow and green)

8 Peas, climbing

6 Lettuce (mix and match varieties and resow after harvest)

6 Onions (mix and match varieties)

1 Squash (with trellis to climb or area to hang over the edge)

6 Assorted Herbs (basil, thyme, oregano, rosemary, parsley, dill, sage, mint, cilantro…whatever you like best!)
Gather your supplies!
Soil - Choose a soil that is rich in nutrients and also has decent drainage.  Something like a veggie blend or triple mix is your best bet!  Here at Rice Rd. Greenhouses we sell them in bulk or in bags and you can purchase all of our soils online!
Nutrients - If you are purchasing a soil with manure or compost in it already, you're good to go in this department.  Otherwise, consider adding a soil additive like "Iron Earth" which add essential minerals to the soil.  Or, add some compost (your kitchen compost that has already been composted over a few years and has turned to soil, or a cold compost like rabbit or duck manure) and mix in with your dirt.  
Fertilizer - Grab yourself a slow release fertilizer for ease of use.  We carry a miracle gro fertilizer for tomatoes, fruit & veggies that is a shake and feed.  This means, you sprinkle it in or on the soils and it will last for a month or two!  It will release slowly over time as you water your garden.  If you prefer a water soluble fertilizer, we have many great options in store! Come take a look!
Mulch - adding a layer of mulch to the top of your garden will help retain moisture in the soil and slow the growth of weeds. 
Stakes or Trellis - you'll want to have these in place even when the plant is still quite small.  This will provide much needed support as the plant grows, and allow them to attach themselves directly to the trellis. Things that are best grown on a trellis include peas, snap peas and beans.  You can also trellis veggies like cucumber and squash, provided they are strong enough to hold up the heavy fruit.  You'll also want stakes or tomato cages for your tomatoes. 
Plant Tags or Labels - Keep those plant tags so you can remember what you planted or keep track of the variety of plant you planted.  This will help you during the growing season to check the plant info, but also for the following year when it comes time to remember what you planted!  
Save the tags for next year + Crop Rotation - You can use last year's info to help you plant a better garden year after year!  Don't forget, you're going to want to rotate your crops, so don't plant your veggies in the same place as last year.  Different vegges will use different nutrients from the soil. Rotating your crops will help you keep your soil from becoming depleted of much needed nutrients!
Watering - Might seem obvious, but make sure you have access to a garden hose nearby (either from your city water supply or from a rain barrel) so that watering is as easy as possible!  You are much more likely to keep your plants watered if it's an easy task to check off your list!
Get planting!
If you're planning to start your plants as seeds indoors, make sure to start planning your garden in January or February so you can gather the supplies needed for growing at home. You'll need trays & clear domes, or pots, soil, lots of light (UV light or bright window) as well as a seedling heat mat.  Seeds need to be planted in warm soil (around 75-80 degrees to germinate).  Once the seeds have sprouted, you can turn off the heat source and open the domes over the plants.  If your light source is too far away, you'll find that your plants will stretch out quite a bit looking for light. This tends to make your vegetables more fragile and more difficult to transplant.  If you don't have a bright window, make sure to pick up a grow light!
 For the first time gardener, we recommend coming down to the greenhouse for seedlings instead of starting your seeds at home!  We have a great selection of veggies starting at the end of April. Most of our stock will be available to purchase beginning of May.  All of your herbs, veggies and even small fruit and fruit trees are here!  Getting a veggie that has been started in the greenhouse will help ensure a safer transplant and adjustment into the garden.  Usually our plants are already hardened off (ready for the wind and sun outdoors) and ready for your garden!  Not sure what to get? Our friendly staff will be happy to help you find what you're looking for!  
Come on down to the greenhouse and check out our huge selection of fruits and veggies for your homegrown produce garden!